Bc. Pastoral 'Innocence' cattleya orchid, blooming size, will make lovely flowers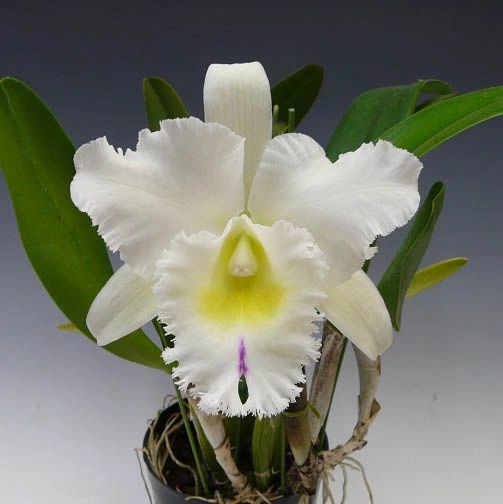 Bc. Pastoral 'Innocence' cattleya orchid, blooming size, will make lovely flowers
Easy to grow, instructions included

NOT in flower now, expect blooms in 12  months or so

This one makes big white flowers with a little yellow in the centers and that dramatic touch of lavender / purple in the lip. Really pretty. And big. Some of the award winners measured 6 inches across.

The breeding is Cattleya Mademoiselle Louise Pauwels x Rhyncholaeliocattleya Déesse. These are mericlones of the  much-awarded 'Innocence' cultivar.

The judges described one FCC this way: "Two exceptionally flat, stunning, full flowers erectly held on one strong inflorescence; flowers clear white; lip throat yellow, distal midlobe streaked lavender; substance hard; texture matte; flowers exceptionally fuller, flatter and heavier than previous AM."
This is another golden oldie, first registered in 1961.

These came to us in a large wholesale order, in need of repotting. We don't have the time to do that, so please be prepared to repot on arrival.
Longest leaves are 9 to 12 inches or so. The roots look healthy, but we have not examined them closely.
These tend to be winter bloomers, and we think you can expect flowers inside 12 months. But no guarantees; it's an orchid so it has a mind of its own.

Cattleyas like these are easy to grow, and very rewarding.  Good plants for beginners. We include free growing instructions. You pretty much can't go wrong.

About Shipping
We ship USPS Priority Mail or First Class Mail
We  guarantee customer satisfaction on delivery.
If there's a problem, please contact us before leaving feedback.
We'll work it out with you, up to a full refund.
We may delay shipping if it's too cold where you are.
When you shop with The Orchid Gallery, you get:
The benefit of our 40 years experience with orchids.
Our customer satisfaction guarantee.
Our friendly customer service.
The chance to ask questions and get free advice.
A care sheet with almost every orchid, filled with growing tips.
A quality plant, packed by professionals.
A tracking number for every order.