Anoectochilus chapaensis jewel orchid, brown leaves, copper veins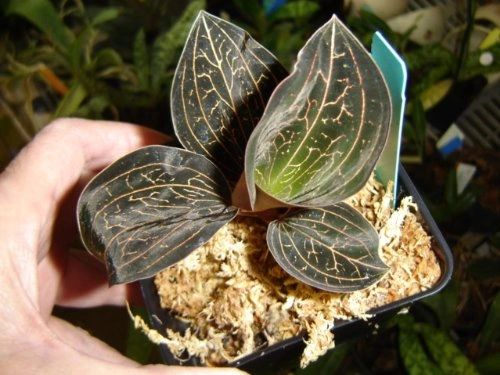 Anoectochilus chapaensis jewel orchid, brown leaves, copper veins
Erotic yellow flowers

Super easy to grow, FREE shipping

Lovely foliage, too - good beginner plant

Patterned brown leaves
Jewel orchids are usually grown for their foliage, not the flower, but this might be the exception. The flowers from Anoectochilus chapaensis are unique and are almost pornographic. In fact, this one has been dubbed Anoectochilus chapaensis 'Erotica.'
These are native to the tropical rain forests of Vietnam, where they grow in very low light, and are kept moist by the rains. We grow them slightly damp in sphagnum moss. Keep these warm, and fertilize lightly about twice a month. Normally we recommend cutting the flowers on jewel orchids, but this one you might want to see bloom, then cut the spike.
These are in 3 inch pots and we'll pick out a nice one for you. We expect this orchid will bloom next winter or spring. These are great for windowsill growers, as they don't take up much space. Just make sure it's a shady window. Makes an excellent terrarium plant
You are purchasing one large seedling in a 3-inch pot. The leaves are 2 to 3 inches long already, and we always ship the largest. Allow to dry almost completely between waterings. Grow these in deep shade or low light. You can buy with confidence. We guarantee customer satisfaction upon delivery.