Angraecum sesquipedale seedling orchid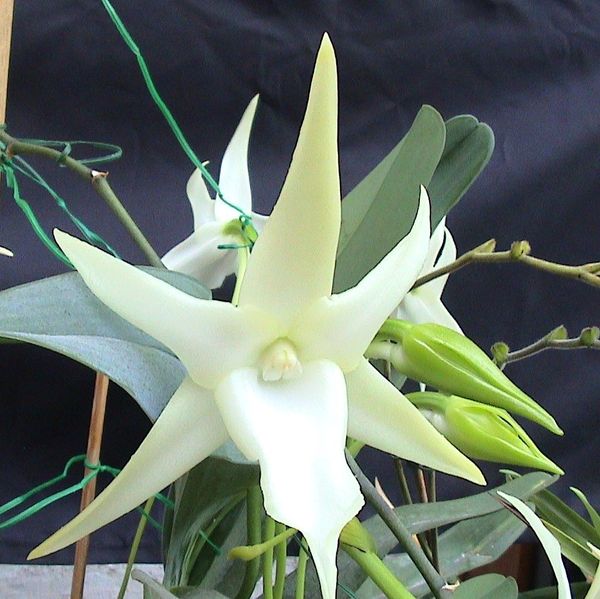 Angraecum sesquipedale seedling orchid
Easy to grow, instructions included
Native to Madagascar
This is the species orchid, native to Madagascar, that was made famous by Charles Darwin – yes, that Darwin  (The Origin of Species, The Voyage of the Beagle, etc.)
When Darwin first saw this orchid he predicted the existence of an insect with a tongue long enough to reach into the 12 to 16 inch nectar tube on the flower. The moth was later found, and given the species name "predicta."
Angraecum sesquipedale puts out large, wonderful, waxy, star-shaped flowers of white and pale green. The flowers can be 4 inches or more across and have 12 to 16 inch nectar spur. They are nicely fragrant at night. A large happy plant can produce dozens of flowers.
These are seedling in 2 1/2 inch pots about 2 years from blooming. We always sell out of these before they reach blooming size, so it's best not to wait.
Angraecum is a genus in the Vanda family of orchids. They like fairly bright but indirect light. Grown indoors, an east or west window with a sheer curtain is fine.
Keep them moist but not sopping wet – you can pretty much grow these like a phalaenopsis. Fertilize about every three weeks with a very weak solution. This one is freshly repotted.

The first picture shows a typical flower; the second picture shows the exact plant you are purchasing.

About Shipping
We ship USPS Priority Mail or First Class Mail
We  guarantee customer satisfaction on delivery.
If there's a problem, please contact us before leaving feedback.
We'll work it out with you, up to a full refund.
When you shop with The Orchid Gallery, you get:
The benefit of our 40 years experience with orchids
Our customer satisfaction guarantee
Our friendly customer service
The chance to ask questions and get free advice
A care sheet with almost every orchid, filled with growing tips
A quality plant, packed by professionals
A tracking number for every order