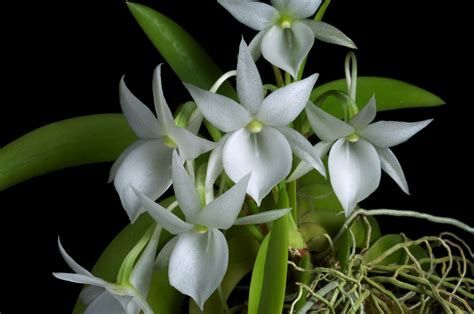 Angraecum leonis
We ship USPS or UPS. Please be aware that if you live up north in cold country we may have to delay shipping until your weather is suitable. When daytime temps are below freezing and the nights even colder, heat packs and an insulate box can't guarantee safe arrival.

Ang. leonis is a delightful miniature African species with large pristine white flowers. The sweet nighttime fragrance is also a plus. These have leaf spans of 4 to five inches and I would expect the first flowers sometime in the coming year. They like it warm with diffuse light. Grow them much like a phalaenopsis. This is the first time we have offered these in a long time. We have about a dozen of them and as always we'll send the largest available. Don't worry we set orders aside so if yours is delayed you will still get the largest plant available at the time you placed the order. 
We  guarantee customer satisfaction on delivery.
If there's a problem, please contact us.
We want you happy.
When you shop with The Orchid Gallery, you get:
The benefit of our 50 years experience with orchids
 Our friendly customer service.
The chance to ask questions and get free advice.
A care sheet with almost every orchid, filled with growing tips.
A quality plant, packed by professionals.
A tracking number for every order.