Blooming Size, Amazing Miltoniopsis Andrea West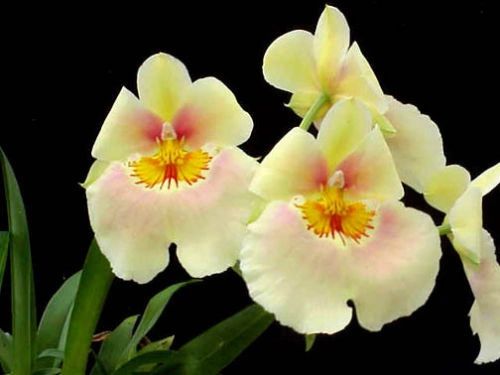 Blooming Size, Amazing Miltoniopsis Andrea West
Blooming size, but not in spike right now. These are lagre plants and we expect them to spike up soon and bloom this spring.
Easy to grow
Comes with free instructions
Miltoniopsis Andrea West will produce beautiful yellow flowers, with a pink blush. They are  usually fragrant in the middle of the day.
These are mature plants with several growths in 4-inch pots. They should make an amazing display this spring.
Miltoniopsis orchids are native to the Andes Mountains in South America. Often called "The Pansy Orchid," many of them have a wonderful fresh fragrance. For home and hobby growers, we recommend them as a house plant. Just give them moderate indirect light, water thoroughly three times a week, fertilize weakly every two weeks. These are intermediate growers. That means they like the AC as much as you. Provide a temperature range of 65 to 80 degrees or so. Good air movement helps. These do very well under lights.
 We ship USPS or UPS, usually within 1 or 2 business days after receiving your order. But, Please be aware that if you live up north in cold country, we may have to delay shipping until your weather is suitable. When daytime temps are below freezing and the nights even colder, even heat packs and an insulate box aren't perfect.
We  guarantee customer satisfaction on delivery.
When you shop with The Orchid Gallery, you get:

The benefit of our 40 years experience with orchids
Our customer satisfaction guarantee
Our friendly customer service
The chance to ask questions and get free advice
A care sheet with almost every orchid, filled with growing tips
A quality plant, packed by professionals
A tracking number for every order