Aliceara Hilo Ablaze AM/AOS oncidium orchid in spike now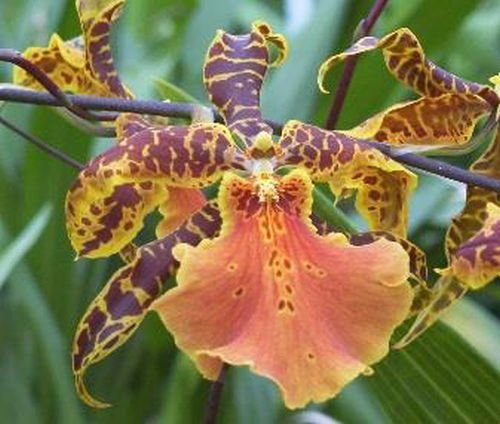 Aliceara Hilo Ablaze AM/AOS oncidium orchid in spike now
In spike now
Free growing instructions included

These are mericlones of Aliceara Hilo Ablaze 'Hilo Gold' AM/AOS, a relatively new intergeneric hybrid orchid first registered in 2003.
More properly called a Gombrassiltonia, the breeding is Bratonia Olmec x Gomesa Mantiniibut, but who cares, they're always changing orchid names. Just relax and enjoy the flowers. We think you can expect blooms in 3 to 4 weeks.
The award winner had a natural spread of 14.5 cm, with vivid coloring.
These are in 3.5 inch pots, in spike. Do not repot until the flowers come and go.
We only have a dozen so it's first come, first served.

About Shipping
We ship USPS Priority Mail or First Class Mail
We guarantee customer satisfaction on delivery.
If there's a problem, please contact us before leaving feedback.
We'll work it out with you, up to a full refund.
We may delay shipping if it's too cold where you are
When you shop with The Orchid Gallery, you get:
The benefit of our 40 years experience with orchids
Our customer satisfaction guarantee
Our friendly customer service
The chance to ask questions and get free advice
A care sheet with almost every orchid, filled with growing tips
A quality plant, packed by professionals
A tracking number for every order