A two-fer: One Dendrobium Somrak Candy, one Burana Jade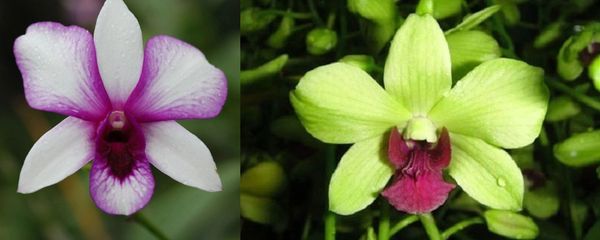 A two-fer: One Dendrobium Somrak Candy, one Burana Jade
Two seedlings NOT IN FLOWER now

Free growing instructions

Will produce lovely flowers
These make lovely orchid flowers and you get one of each plant.

These Dendrobiums are an example of the superior hybridizing being done in the Far East.

Den. Somrak Candy, left,  is Dendrobium Miss Singapore x Dendrobium King Dragon.
Burana Jade, right, is Dendrobium Bangkok Green x Dendrobium Burana Fancy. This particular cultivar is coming out slightly more yellow.
These are fast growers and should bloom in about 18 to 24 months or so if properly grown.
Comes with free growing instructions. Good beginner plants. Can take some abuse. Freshly repotted in 3-inch pots.

About Shipping
We ship USPS Priority Mail or First Class Mail
We  guarantee customer satisfaction on delivery.
If there's a problem, please contact us before leaving feedback.
We'll work it out with you, up to a full refund.
When you shop with The Orchid Gallery, you get:
The benefit of our 40 years experience with orchids
Our customer satisfaction guarantee
Our friendly customer service
The chance to ask questions and get free advice
A care sheet with almost every orchid, filled with growing tips
A quality plant, packed by professionals
A tracking number for every order
We have a bunch of these freshly repotted in 3-inch pots and we'll pick out a nice one for you.