A Fine Day on the River - watercolor print, suitable for framing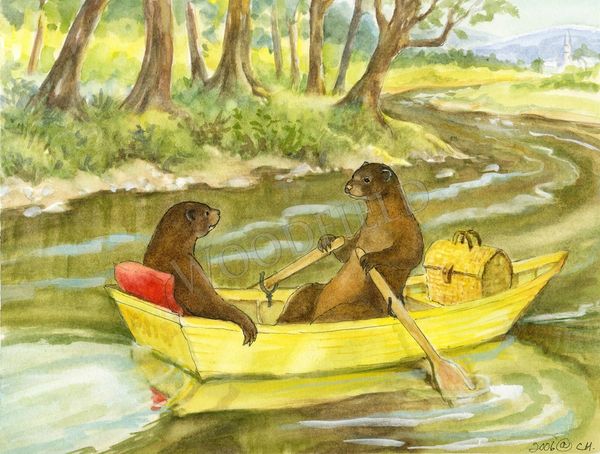 A Fine Day on the River - watercolor print, suitable for framing
This print features an original watercolor by New Hampshire artist Cindy Hendrick.
Suitable for framing, the print features a couple of riverbank creatures, out for an adventure on the river. It's perfect for a kid's room, a hallway, a dormitory room, anywhere you need a smile. At The Orchid Gallery, we're into boats, and we like this a lot.

The print measures 8.5 by 11 inches, and ships already matted to fit an 11- by 14-inch frame (not supplied).
These are printed on off-white paper made of 100 percent cotton using long-lasting, high-quality inks. There's a story line at the bottom of the print that reads:
"It was a fine day on the river and the minks headed upstream to picnic below the town."
It reminds us very much of the wonderful quote about boating from "The Wind in the Willows" by Kenneth Grahame:
"... there is nothing -- absolutely nothing -- half so much worth doing as simply messing about in boats ... Nothing seems really to matter, that's the charm of it. Whether you get away or whether you don't; whether you arrive at your destination or whether you reach somewhere else, or whether you never get anywhere at all, you're always busy and you never do anything in particular..."

Ms. Hendrick uses pen and ink and watercolors to create images that show off her love of nature and the woodland and coastal animals and landscapes of New England.

The watermark will not show on the print that you receive.
We ship in sturdy chipboard packaging to prevent folding. And we guarantee customer satisfaction. If you're not happy with what you receive, simply return it for a full refund.