3 Baby Staghorn Ferns - French variety - veitchii 'Lemoinei'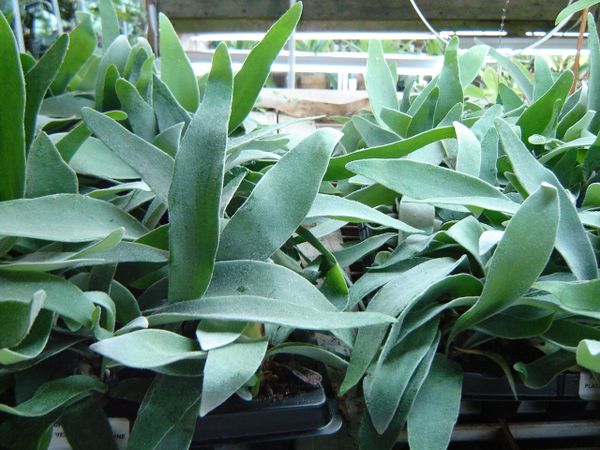 3 Baby Staghorn Ferns - French variety - veitchii 'Lemoinei'
These plants are from tissue culture. The leaves are approximately 3 to 4 inches long and they are growing fast.

This is the French variety, although it's actually native to Australia. More drought tolerant than most staghorns. The leaves are silvery and have a velvet feel to them. You are buying a pack of three plants.

In the wild it grows on sun-exposed boulders and rocks and is heat loving. In its native location it has to survive droughts of 2 months or more without rain. As with many drought tolerant plants its foliage has soft, waxy hairs that protect it and give it the silvery look. It should be watered sparingly in winter. Excellent on plaques and in wooden or wire baskets.
The leaves develop longer prongs than standard staghorns.

The first picture shows a mature plant; the other shots show the plugs in the grow tray.
We will ship as small plugs, ready for you to pot up or mount.
Staghorns are epiphytic ferns that grow naturally on bark or tree branches. They have two different types of fronds. One grows outward from the base giving it its name (Staghorn) and another that cups the area where it's rooted.
These are easy to grow. Keep between 55 and 85 degrees. Morning sun is OK. Fertilize once every two weeks or so with a weak, well balanced fertilizer.
These will come to you as plugs, right out of the grow tray and we recommend mounting them by wrapping the plug in sphagnum moss and attaching to a wooden or ceramic mount with strips of old panty hose. Alternatively, you can plant in pots of peat moss mixed with a little potting soil. Be advised, they can get quite large, with leaves up to two feet long.
At The Orchid Gallery, we offer quality plants and friendly, personalized service. Our grower inspects every plant we ship.   
About Shipping
We ship USPS Priority Mail or First Class Mail
We  guarantee customer satisfaction on delivery.
If there's a problem, please contact us before leaving feedback.
We'll work it out with you, up to a full refund.
When you shop with The Orchid Gallery, you get:
The benefit of our 40 years experience with orchids
Our customer satisfaction guarantee
Our friendly customer service
The chance to ask questions and get free advice
A care sheet with almost every orchid, filled with growing tips
A quality plant, packed by professionals
A tracking number for every order