3 baby Cinnamon fern plugs, Osmunda cinnamomea, easy growers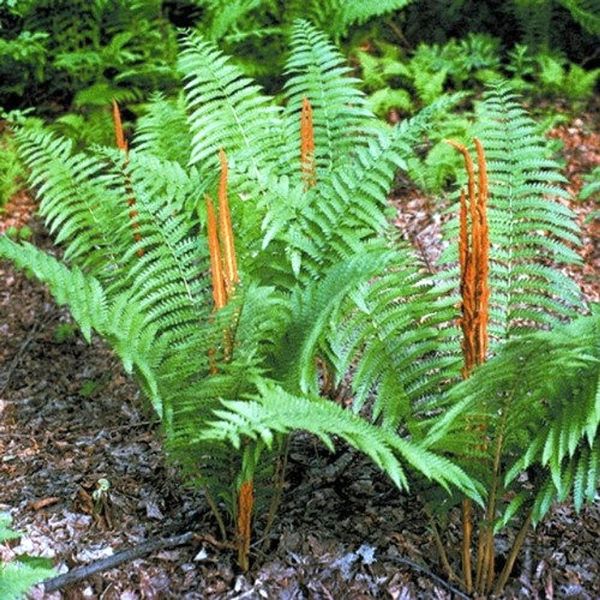 3 baby Cinnamon fern plugs, Osmunda cinnamomea, easy growers
FREE Shipping
We ship to U.S. addresses only.
Genuine Osmunda cinnamomea ferns
Grows fast, easy to grow
Great for landscapes and wet areas
You are buying 3 plugs, fresh from the grow tray
Please be prepared to pot on arrival.


The cinnamon fern is a North American native that is especially adapted to wet areas where it will produce an exuberant upright bouquet of 2 to 5 feet fronds. These can be grown outdoors, once mature, in an amazing climatic range from Zones 2 – 10. The secret is to provide lots of water and keep them well shaded. No direct sun, especially at this baby stage.

When mature, they produce an exuberant upright bouquet of fronds anywhere from two to five feet high. No, sorry, they look like cinnamon sticks, but there's no cinnamon fragrance. Sterile fronds bend outwards, forming a vase-shaped circle enclosing the upright cinnamon-color  fronds.

These ferns make a showy contribution to landscape design in swampy areas but will adapt with a lower mature height to average soil conditions.  We recommend potting them in 3 or 3.5 inch pots on arrival, in ordinary potting soil. Keep them damp. Transplant when they overgrow the pots. Said to be native to Missouri. Osmunda fiber used in the potting of some orchids comes from the roots of these ferns.
About Shipping

We ship USPS Priority Mail or First Class Mail
We  guarantee customer satisfaction on delivery.
If there's a problem, please contact us before leaving feedback.
We'll work it out with you, up to a full refund.
When you shop with The Orchid Gallery, you get:
The benefit of our 40 years experience with orchids
Our customer satisfaction guarantee
Our friendly customer service
The chance to ask questions and get free advice
A care sheet with almost every orchid, filled with growing tips
A quality plant, packed by professionals
A tracking number for every order